How To Sell Online: I have over 300 work from home online income business articles published online, 9 internet business ebooks published at Amazon/Kindle and hundreds of web pages dealing with every aspect of e-commerce. Frantic, desperate people often contact me for help. These people all deserve a straight answer. This page was created to answer the most frequently asked questions and I have included a large library of free ebooks that I view as the best on the web.

FACT! Your internet connection is your personal doorway to the largest, richest market that has ever existed. The World Wide Web. Access is free. Imagine what you can do with something like that! But...

.... I have some bad news for you :-(  Google does a lot of research and they have found that the average visitor to a website will return to it on average 7 times before buying anything even if your product or solution to their problem suits their needs exactly and your price is excellent.
Keep this information in mind no matter what kind of online business you eventually get into.
People just don't trust, but don't be afraid...
The good news is that there is an easy solution: email marketing. Visitors to sites are encouraged to leave their email addresses so they could be sent free stuff. The central idea here is that they are giving the website owner permission to visit them through their inbox! Done properly, this builds incredible trust very quickly.
This is a great way to get around the awful 7 visit barrier mentioned above.

Most websites have opt-in forms to get people to leave their email address in exchange for a freebie of some sort like a free ebook, report or video. Forms like this one are in common use. They worked for a while, but people quickly got tired of free reports, ebooks and so on.
The minute they see these little boxes, they scramble for the back button. A company named Leadpages changed the whole process.

They suggest that your freebie not be an ebook or report. Instead, they suggest a blueprint, resource or small set of digital tools that the average visitor might find useful. People want something useful and short.
People want instructions, how to and so on. The best example I have seen for something like this was a Youtube video on how to build a picnic table. The instructions were very good.
At the end, he asked people to swap their email address for a simple, 1 page PDF list of materials they would need to bring to the lumber yard to build their own picnic table. The idea worked great.
People want something simple like a plan, a blueprint or a simple list. This is what Leadpages teaches you how to do.
And now, for the real magic. Instead of a little plain, boring opt-in form like the one above, a company  named LeadPages introduced a whole new ball game. If you visited a winter vacation website, would you be more tempted to fill in a plain little form like the one above or the Leadpages example below?
Uh-huh, I thought so. Remember that all these squeeze pages open in a full screen representation like this.

The next example was created by someone who has a website dealing with comic books. Beautiful, isn't it?
The one below is one of their top performers that gets a really good click through rate.
Anything can be changed with a couple of mouse clicks. Background images, styles of boxes, which information is asked for and so on.
This one is my personal favorite and gives me a great CTR. Give it a moment to load the video. You can change the video to anything you like. Imagine a gardening site with flowers waving in the wind, an aircraft site with airplanes floating above the clouds or ... well.. you get the idea.
Most people are not aware of the 7 visitor phenomenon that Google found and it kills their dream of independence and freedom. They work and work to build a great site, they get traffic and little money comes in because they are not aware of and dealing with that 7 visit phenomenon.
Opt-ins are a brilliant and fun way to build trust and Leadpages offer the best in cutting edge squeeze page technology for about a dollar a day.
By the way, would you like to see more of what Leadpages can do to help you achieve your dreams like they did for me? The best way for me was to sign up for one of their 2 free weekly live webinars. You can reserve your spot here.
NOTE: What I liked the most is that you don't have to be one of their customers to gain immense benefit from what they teach.

The questions I am most often asked  are:

"How can I have an online business when I have nothing to sell?" (

Affiliate Marketing

)

I bought the get rich quick guru books and failed. (There is no get rich quick. You didn't fail)

What do I have to do to quit my day job? (Create your own job)

How can I work from home? (See question 3)

How can I build a high traffic website? (By learning how to build one)

Is it true that you can succeed on the internet with no investment? (No. It takes effort)

Is it possible to create online incomes safely and risk free?(Yes)

Will you mentor me? (You don't need me, bookmark this page)
If you dream of building a rock solid online business built around something you dearly love, that requires no risk, can operate by itself, that you can build in your spare time and in which you are willing to invest a dollar a day, then the few minutes you spend reading this article to the very end will be the most profitable time you spend this year.
---
How to sell online. It all starts with a decision.
Decide right now to give this thing a good going over.
See that there is nothing impossible here.
Wrap your head around the fact that the internet is the largest market that has ever existed and that you have free access to it.

The system of tools you will learn about below will allow you to build whatever kind of business you want risk free in your spare time. Such is the power of the internet and something called affiliate marketing which is in the first section below. It works wonderfully whether you are a welder wanting to set up an online supplies and sales business or a dentist wanting to build up your client base or anything else for that matter.
There is no limit to the amount of money to be made on the internet. It is the most massive, richest, free market that has ever existed and it is available free to you through your internet connection.
By the way, if you are like I was, you have many questions. Ask them at the free SBI! Questions page.
You must, however, know:
How the internet operates.

What SERPs are and how to become their champion.

How search engines search.

How to make your site attractive to them (you can't buy your way in).

How things like RSS and SEO can be incredibly helpful.

How to build a business without risking losing your shirt/or blouse.
There is much to know as you learn how to sell online, but it is not rocket scientist stuff. If you can send an email, you can build a business if you stay with it.
You have to understand how the internet works, where money can be made and so forth. The free library below is instantly downloadable, there is no fee, no charge and nothing is asked of you, not even your first name or email address.
Put all together, this information will give you the solid base you need to develop your own income so that, one day, you will work from home (or where ever else you care to place your laptop!) You will have mastered how to sell online.
All this information is here to help you understand how business on the internet works.
(I strongly urge you to bookmark this page).
Simply click on any ebook image below and follow the "save as " instructions on your screen.
DO NOT stop at one book to learn how to sell online. There is much to know and these ebooks lay it all out for you. Download them right now, all of them if you wish or one at a time and read them slowly. Feel free to forward them on to your friends and loved ones who also, like you, are seeking the freedom to work from home. This massive (over 2000 pages) free library changes lives.
It has changed mine.
Click on any image below. You will be taken to my appropriate Site Build It page that explains what the ebook is about and how it will add to your internet education and how to sell online. At the bottom of each page is a picture of what you will be getting and download instructions.
---
Part 1 of this work from home library: is the Affiliate Masters Course. Affiliate marketing is risk free and the most popular and successful way to start an online business.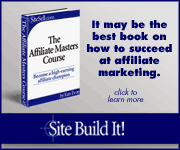 Many of today's super-affiliates credit their start to this course. Follow their example...
Do the Affiliate Masters Course. Graduate as an accomplished affiliate Net marketer, a super-affiliate in the making.
Learn and earn! Soon, you will work from home. Learn all about how to sell online.
Part 2 of this work from home library: is the Work At Home Moms (WAHMs) Masters Course. Make money from where you want to be when it is the best time for you to be there.
An online business is affordable, flexible, and convenient. You can work at your Web site and business when you like, at the speed that suits you, and still put the all-important needs of your family first. In other words, you can take your family to work with you!

Learn from the experiences and advice of Elizabeth, Cate, Jennifer and Erin, and several other successful WAHMs, in WAHM-IT!, The Masters Course. They are busy moms just like you and they know what it's like.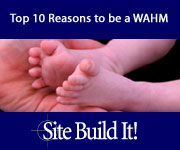 So they have taken the time to tell you everything of how they ended up being able to work from home. And they do it in simple, short practical terms, building from the ground up.

They start all the way back at the "very beginning," from reviewing all your options and organizing properly which the 5 figure day lays out for you. And they progress all the way to the final desired outcome, including the nitty-gritty of how to actually build a substantial income online, illustrating with well-explained case studies and how to sell online.
Part 3 of this work from home library is: the Local Business Masters Course where you help local businesses get onto the web.
There is a huge untapped market, waiting for assistance... your assistance.
Are you an:
Experienced Webmaster looking for delighted clients?
"Accidental" Webmaster ready to go beyond friends?
Online marketer on the hunt for new strategies, wanting to learn better how to sell online?
The Local Business Masters Course is for you! Sharon Odom Fling, a highly respected local business marketing expert, shows you how to capture the local market, and differentiate yourself from the competition.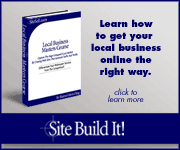 The 5 figure day pdf shows how to create local buzz about you, as satisfied clients tell other people about the Webmaster who produces results... targeted traffic and profits... over and over again, for any type of business.
The Masters Course gets you into the mindset of local business owners first, an essential starting point, and then outlines a range of services you can provide to grow their businesses. It also covers how to connect and market to this busy and usually novice-to-the-Net target group.

Part 4 of this work from home library is: the Make Your Price Sell Course where you learn pricing principles and practices.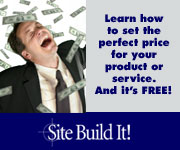 No more guessing or relying on a "gut feeling." No more swirling around a bunch of data and pulling out the magic number. No more nagging uncertainty.
You can now price with confidence and sureness (without hiring an expensive consultant!)...
"Make Your Price Sell!, The Masters Course" shows you how to maximize profit for both you... and your customers! It also has many great tips on how to sell online!
Yes, your prospective customers must feel that they will personally profit by buying your product or service. In other words, they must feel that the value you offer equals or exceeds the cost. If they don't, credit cards remain securely tucked away in their wallets.
That's why it's critical that you determine the "Perfect Price"...
Business Website Builder
Part 5 of this work from home library is: the Netwriting Masters Course where you learn how to write on your site.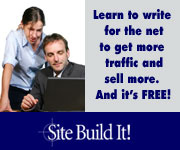 Most small businesses fail on the Net because they prepare to sell and collect money, before they have provided what their visitors are searching for... information. These small business owners build a Web site to sell and somehow figure that traffic will just show up and be willing to buy or hire immediately.
Wrong thinking... wrong process... no results! It's like pushing a string. You have to pull instead... pull targeted visitors into your site, PREsell them... then, and only then, sell. Learn properly how to sell online.
Let's boil it down to four simple steps...
Create the information that your prospective customers want.

Attract targeted traffic -- win the Search Engine wars!

PREsell your visitors -- build confidence (people buy from those they trust).

Convert traffic to dollars -- sell (whatever that may be... hard goods, e-goods, services, even clicks on Google ads).
That advice might be going against the advice of a lot of the companies selling software, hosting and so on. Just buy their product and you'll be choosing the color of your jet in no time.
Not so.
Building an online business even with the 5 figure day pdf requires patience, work and knowledge about how to sell online. You could work for months on a site and end up with nothing. Been there, done that.

What you need up front is a business website builder software package that not only gives you numbers, code and so forth, but knowledge on how to sell online also. Call it training, education or whatever you want to call it. You have to learn first hand how buisness is done on the internet.
It's a different ballgame than setting up your own shop on the street. On the other hand, built properly, an online business runs on autopilot so it does not require the minute by minute attention that the street business requires.

May I suggest that your first step in getting that internet education is to sign up for my free ecourse. That will give you the basics of how to sell online. Then, come back to this page (bookmark it right now!) and down load the ebooks listed all over this page. Pick and choose. Personnally, I recomment the affiliate Masters Course for starters.
It will show you how to start your business with no product of your own to sell. It's a great way to start and it includes a lot of excellent information on what a great business website builder software must do for you.

Part 6 of this work from home library: is the Webmaster Masters Course where you learn how to create websites for others.
The Webmaster BUSINESS Masters Course covers a range of need-to-know operational topics like:
Developing a comprehensive business plan
Targeted marketing and how to sell online
Designing your client's success (and yours!)
Finding clients
Communicating effectively
Writing winning proposals
Signing profitable contracts
How to sell online.
The Webmaster BUSINESS Masters Course will help you get your business up and running smoothly so that you can spend your time and energy on what you know and love to do best -- designing and building successful Web sites for more and more satisfied clients.
Online Home Businesses
Part 7 of this work from home library: is the Net Auctions Masters Course where you learn how to work for yourself, not the online auction place.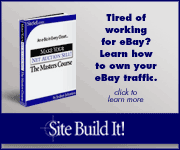 A Net Auction business is full of opportunity for those who want -- and know how to sell online -- to take advantage of it. No, you won't get rich overnight. And we hope you are not looking for such a "rich-quick" opportunity because that is the sure road to disappointment.
However, you can build a real business online. Yes... you. The Net auction business is an easy, low-cost, no-risk entry into e-commerce. The perfect way to get your "e-feet" wet!
And... you will get to meet people from around the world who are as passionate about the same collectible, hobby, subject area, etc., as you are! What other e-biz could be as exciting or more personally rewarding once you've learned how to sell online?
Consider the advantages of a Net auction business...
Part 8 of this work from home library: is the Make Your Knowledge Sell Master Book. What do you know that you could possibly sell?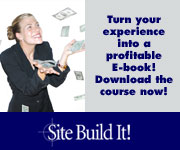 Online home businesses can take the most unusual twists and turns. Build on something you love to do and you will direct it to what you know is best in that particular subject. It could be a herb, a paint type, a new antennae, anything.

You might be asking, "What knowledge could I possibly have to sell?"
If you've been a bus driver all your life, but you have a passion for roses, you could easily turn that passion into an ebusiness.
You say that you've never worked outside the nhome. You've spent your whole life caring for two sick and elderly parents. What could you possibly have that could be useful to others? You've an expert i9n carinf for the elderly, aren't you? Build a site on elderly care if this is your passion.
So, you're a brain surgeon. Well, if that is your passion, there are a million different health related subjects you could build a site on.
Online home businesses can take you anywhere you want to go. Help others, help the world, help the environment and help yourself. You don't need building permits, environmental assessments and so on.
Choose and build.
By the way, the best solution for online home businesses I have found is the site building company I deal with for my sites. If you are interested, here is their video on how to build a site for online home businesses.

A housing contractor, considering semi-retirement, is looking for an easier line of work. E-publishing sounds interesting, but he's spent his entire professional life with his head in blueprints. What could he possibly have to offer as an author?
Hello?
He's a walking gold mine to any homeowner or potential home buyer! Like very few others on this planet, he knows what contracting scams to watch out for... how to get lumber at cost... traps to avoid... checklists galore for doing just about everything in home construction... and much, much more. Sell it, fella!

By the way, do you want to find out more about the Solo Build It process that I use? Click on this How To Sell Online /SBI Questions page. 

Copyright 2015 Home Online Incomes.Com
All rights reserved - World Wide
Offices: 148 Coates Rd. Dryden, Ontario,
Canada P8N 2Z1